Satyr Sounding a Horn
Other Images: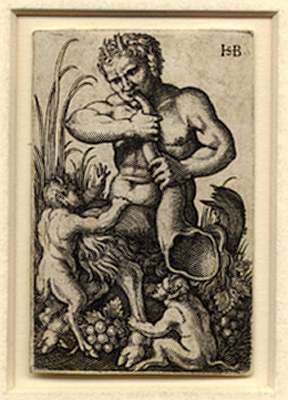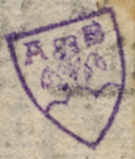 Engraving, 52 x 34 mm., Bartsch 111, Pauli 113, Hollstein 113. Very fine impression of this undated plate, on laid paper with thread margins or trimmed on the platemark. This impression is cited in Hollstein. The rough, natural horn with a conical (as opposed to straight) bore, obviously the horn of an animal, is the ancestor of the modern French horn. Beham crams a considerable amount of visual information into this tiny print and one should not overlook the grape clusters at the satyr's feet.



Provenance:

Paul Davidsohn (Lugt 654). This was truly one of the world's great collections of old master prints. Davidsohn was born in 1839 in Danzig, later traveled to Scotland and, in 1862, set up as a merchant in London, where he stayed for twenty years and where he began collecting prints. He eventually settled in Grunewald-Berlin, but attended virtually every important print sale in Europe. The enormous three-volume sale catalog of his collection shows not only the acquisitive instinct, but the scholarly one, with every one of his ca. 10,000 prints carefully researched and new information added on previously unknown states. The sales of his collection took place in 1920 and 1921 in Leipzig. In the catalog, this print is noted as rare.

Dr. Albert W. Blum (Lugt 79b). Blum, born in Mannheim (1882-1952), was trained as an engineer, but also held a doctorate in political economics and philosophy. He became an expert in steel, working in Switzerland, and later divided his time between Switzerland and a home in New Jersey. He was an active and highly intelligent collector, particularly interested in 15th- and 16th-century German prints as well as Rembrandt and others. A part of his collection remains in the family; another part was sold at Sotheby's NY in 1988 and some single items in later auctions.