Arithmetria
Other Images: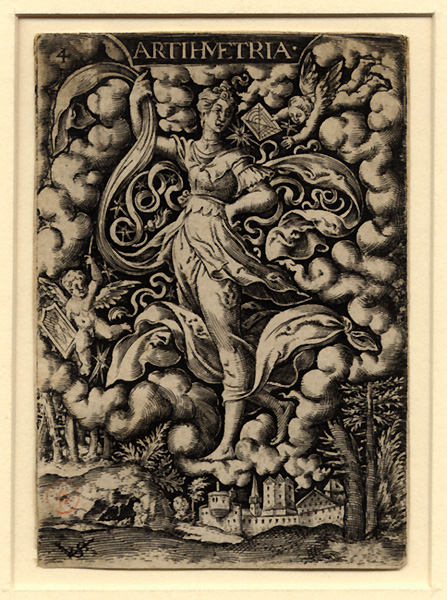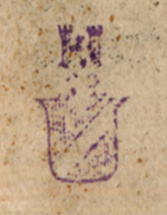 Engraving, from The Seven Liberal Arts, 83 x 59 mm., Bartsch 193, O'Dell-Franke e 82. Brilliant impression on laid paper, trimmed on the platemark which is visible in places. Solis, who worked in Nuremberg, was a prodigious workman who turned out engravings, etchings and woodcut illustrations in quantity, some after his own designs, some adapted from those of other artists. But there is nothing in his work that compares to the set of Liberal Arts, which, quite apart from being masterfully engraved, shows influences and aspects of his artistic personality not in evidence elsewhere. How do we explain the elongated, mannerist figures except by saying that he had suddenly come across Italian Mannerist art. How do we explain the conjunction of ornamental devices with detailed landscape depiction except by assuming that he wanted to create something new, something he had never done before? These are surely the most strikingly original prints of a man who, capable as he was, all too often put quantity before quality.



Provenance:

Antoine Vivenel (L. 190). Vivenel (1799-1862) was an architect and building contractor, a livelihood that earned him a considerable fortune. A good part of that fortune he employed in building a fine collection of paintings, sculpture, drawings, antiquities, books and prints with a special emphasis on ornament prints. He gave a major part of his collection to his native city of Compiègne to found a public museum, today called the Musée Vivenel, and he himself prepared the catalog of the collection. The still impressive remainder of his collection, and apparently most of the prints, was sold after his death in Paris.

Dr. Erich von Rath (Lugt 2721). Von Rath (1881-?) was Director of the Library of the University of Bonn. He collected prints of the 16th and 17th centuries. Most of his collection was dispersed by private sale in 1929-30, a few pieces at auction.
| | | |
| --- | --- | --- |
| | $1,500.00 | |