Les Français après la Victoire
Other Images: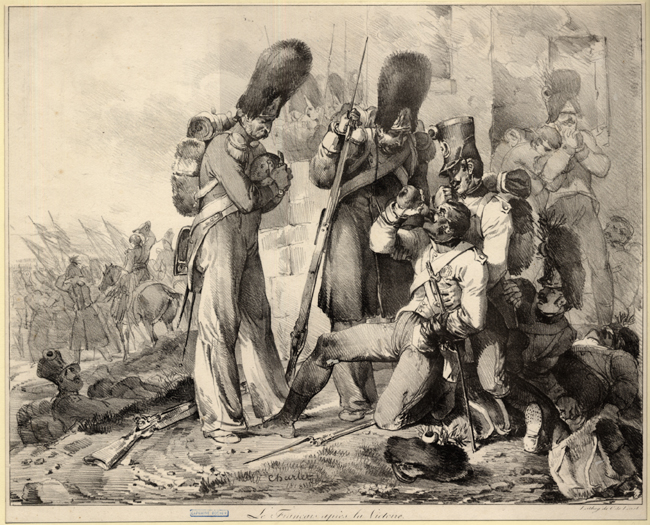 Lithograph, 1818, 367 x 450 mm., De la Combe 43 only state. Very fine impression on wove paper with margins of about ½ inch outside the borderline and the full text below; a small repaired edge tear at the top. The scene depicts French soldiers giving aid to wounded Austrian troops after defeating them in a battle in the Napoleonic wars. De la Combe, the cataloguer of Charlet's prints, has noted that this one is very rare.



Provenance:

Capitaine Bocher (Lugt 2670 and on line). René Paul Emmanuel Bocher (1835-1919) was a captain in the French army and came from a distinguished family which included a senator and a general. But Bocher is known today principally as a writer on art, the author of catalogs of the works of Gavarni, Lavreince, Baudouin, Chardin, Lancret, St. Aubin and Moreau le Jeune as well as other studies. His own collection focused on the original drawings for book illustrations, of which he had a massive and important assembly. He also had a collection of prints and drawings by Charlet, said to have been obtained from his father-in-law, the Count de Pajol. The illustration drawings were apparently sold privately and probably the Charlet prints as well, for the two auctions of Bocher's estate, in 1921 and 1922, mention only paintings and some old master drawings among the furniture, bronzes and objets d'art.