31. Adriaen van Ostade
(1610-1684)
Bust of a Peasant; Bust of a Peasant Woman
(click on image to print)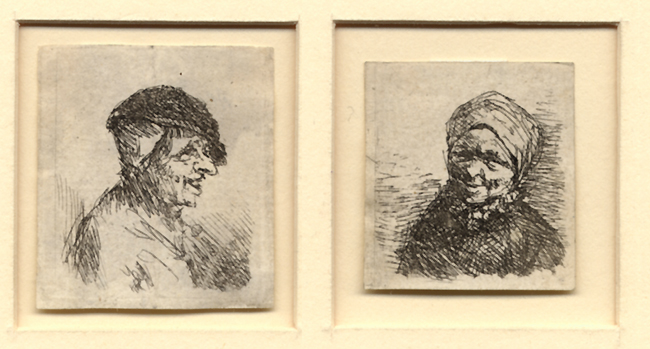 Bust of a Peasant; Bust of a Peasant Woman
Other Images: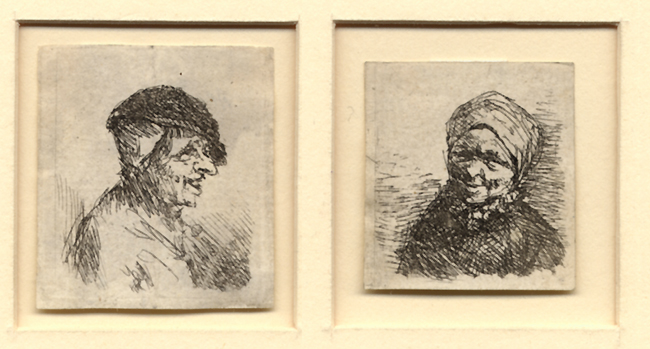 Etchings, ca. 1636, 33 x 28 mm., Bartsch 1 and 2, Hollstein 1 ii/iv and Hollstein 2 iii/v. Fine, early impressions, before the borderlines, before the monograms, on laid paper, the first with small margins outside the platemark, the second with thread margins or trimmed on the platemark; old white paste verso on the first and thin spots, some soft creases.



Provenance:

B. 1: J. M. F. Geissler (Lugt 1072). Johann Martin Friedrich Geissler (1779-1853), who was born in Nuremberg and worked there and in Paris, was a draughtsman and engraver and also seems to have had some experience as a print seller. His own work still appears occasionally on the market. His varied collection of prints, some 1500 lots, was sold after his death in Leipzig, his drawing collection, mostly Dutch and German, 18th and 19th century, six years later.

B. 2: Franz Gawet (L. 1069). Gawet (1765-1847), previously mentioned under the print by Marcantonio Raimondi, was an engraver and collector based in Vienna.

F. Baumgartner (L. 975). The mark has been generally attributed to the Viennese print seller Franz Baumgartner, but Lugt suggests that it may rather be that of Andreas Freiherr von Baumgartner (1793-1865), also of Vienna, professor, minister of state and President of the Academy of Sciences.