58. Jean-Louis Forain
(1852-1931)
La Rencontre sous la Voûte (Première Planche)
(click on image to print)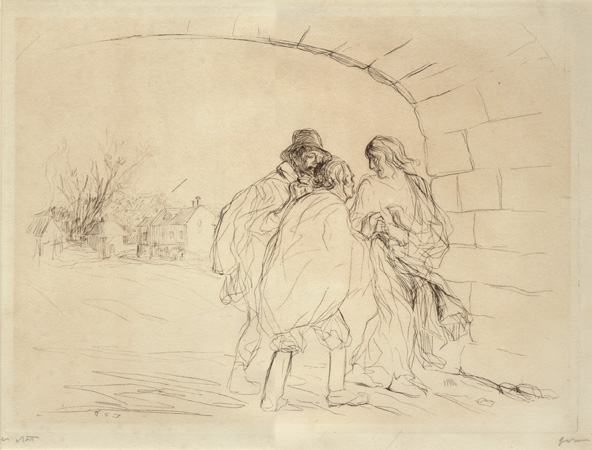 La Rencontre sous la Voûte (Première Planche)
Other Images: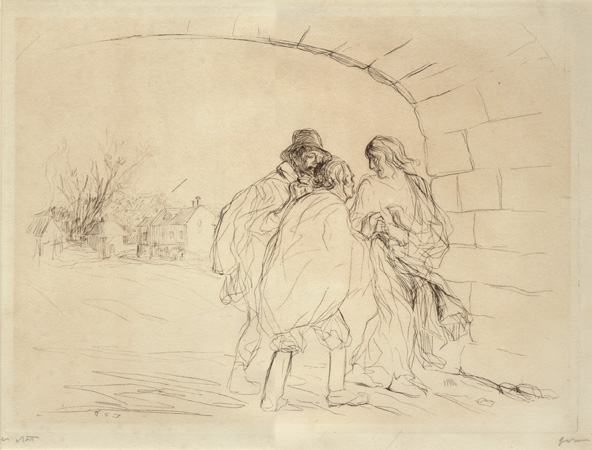 Etching, ca. 1910, 310 x 418 mm., Guérin 100 only state. Fine impression printed in a brownish ink with light plate tone on heavy laid paper with good margins, signed in pencil and inscribed "1er etat" (there was no second state). The image represents the biblical encounter on the road to Emmaus. The figure of the risen Christ is robed, but the two men accosting him are in French peasant dress and there is a pretty little French village in the background. The historical contradiction derives from Forain's effort to integrate biblical episodes into contemporary life, to show that his devout Catholicism retained meaning in the modern world. It was not unprecedented. Rembrandt and even Dürer did similar things.



Provenance:

T. Simpson (Lugt 2459). Thomas Simpson, a Londoner born in 1877, successfully combined three careers: he was a lawyer, he was part of the firm of Fowler and Simpson, designers of golf courses (and he wrote several published articles on the subject), and he was the author of "Modern Etchings and Their Collectors," published in 1919, which gave practical advice and useful information to beginning print collectors. For himself, he collected works of the Etching Revival – Meryon, Haden, Whistler, Zorn, Forain, etc. – searching always for the best possible impressions.

E.A. Seasongood (Lugt 907a). The stamp does not appear on this print, but an inscription on the old mat identified it as from the Seasongood collection. Edwin Alfred Seasongood (1876-1953) was a Cincinnati-born, Harvard-educated, New York stock broker, founder of the firm of Seasongood and Haas. He began collecting while quite young, around 1901, first Whistler and then other nineteenth and twentieth-century artists, always searching for the finest impressions. Shortly after, he began to collect old masters, again, top quality. Ultimately, the collection contained works by Pollaiuolo, Mantegna, Schongauer, Dürer, Tiepolo and Rembrandt on the one side, and Whistler, Cassatt, Buhot, Forain, Meryon and Daubigny on the other, among many others. Portions of his collection were loaned and exhibited at numerous museums and colleges throughout the United States and the collection was finally sold in two auctions at Parke-Bernet in 1951 and 1952. There were close to five hundred lots of the finest quality, many of which brought less than he had originally paid, a sad commentary on collecting in the Fifties.