Affordable Drawings
from the 16th through the 20th century
---
26. Gabriel-Alexandre Decamps
(1803-1860)
Trees at the Villa Doria-Pamphili, Roma.
(click on image to print)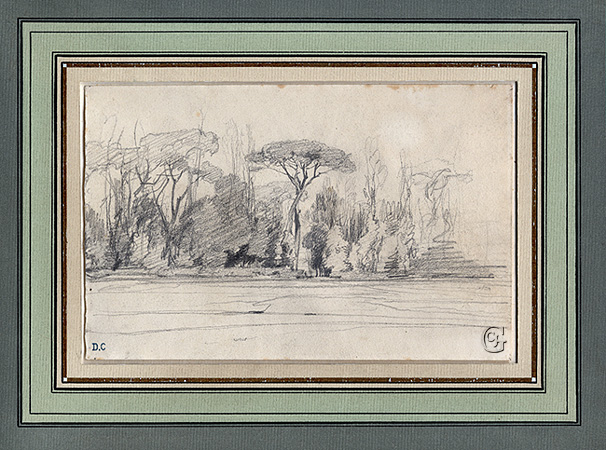 Trees at the Villa Doria-Pamphili, Roma.
Pencil on wove paper, ca.1839, 140 x 214 mm., signed with the estate stamp recto. Probably an early study from nature for the painting of the Villa Doria-Pamphili which is now in the Wallace Collection, London. Decamps, though his name is something less than a household word, was a great artist, a major figure in nineteenth-century art. The article in Benezit, which is five pages long, makes both these points and laments the fact that certain great artists, Decamps, Diaz and Daubigny among them, have simply never received the acclamation legitimately due them. Nevertheless, Decamps has been widely collected and with good reason. The present drawing, rapid, spontaneous and fluent, nevertheless pays careful attention to the differences among the types of trees present --without being in the least pedantic.